Holland Festival Sjoelbak Championship
Sponsors & Prizes for the 2022 Sjoelbak Competition are still to be announced.
The Holland Festival will be holding a Sjoelbak Championship for Festival attendees to test their Sjoelbak skills against each other. The competition was very popular in previous festivals and will again be held in 2022.
Sjoelbak is a tabletop shuffle-board game with simple rules that anyone can play. Each game lasts about 4 mins.
The Holland Festival is running 3 competitions. The best 2 scores of the day in each division will win great prizes.
Division 1
Adults – $5 per game
Division 2
Teenagers 13y to 18y- $2 per game
Division 3
Children (12 and under) – $2 per game
2nd Prize
A $100 voucher in each division to be spent at the Touch of Dutch shop and/or cafe or online shop –   Touch of Dutch website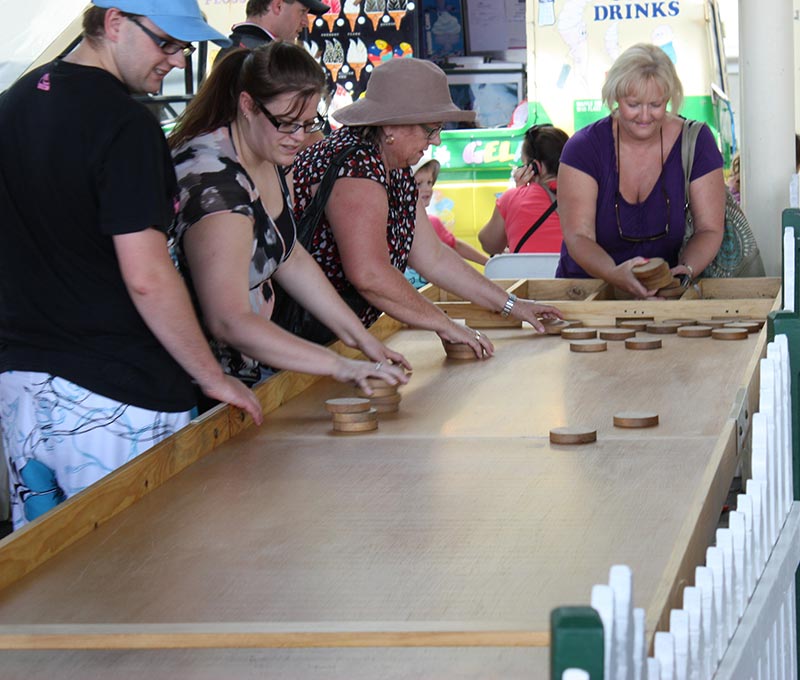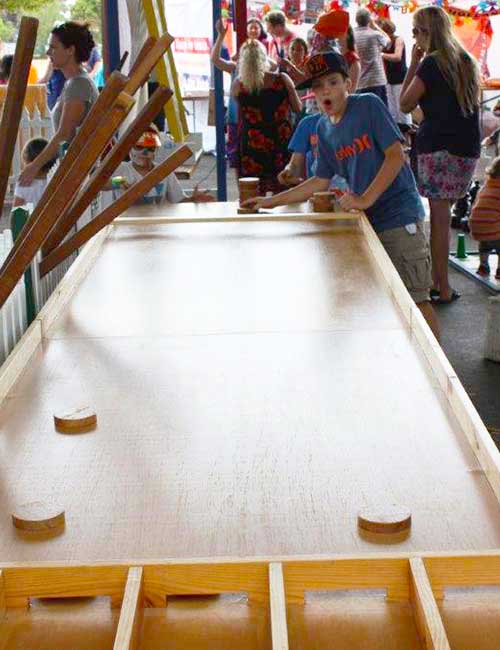 Competition Rules
Each game starts with 30 discs – players must ensure there are 30 discs before the game starts
A disc is in play when it has completely passed under the back of the start bar
Once a disc is in play it must not be touched during the current turn
Any disc that leaves the sjoelbak or jumps over the gate bar is taken out of play by the game official (in these cases the disc may be touched)
A disc that returns under the start bar back to the player is out of play and cannot be replayed
At the end of each sub-turn the disc is only considered in the compartment when it has passed under the start bar and has completely passed the front side of the gate bar. If there is doubt the official will pass a straight gate stopper along the gate. If the disc moves at all, it is NOT in the compartment
At the end of each sub-turn the official stacks the discs in a pile of 4 in the compartment about 5mm from the back of the compartment  (as a rebound buffer) with subsequent discs piled in 3's
​​Game Sequence
After the first sub-turn of 30 discs, the official decides which discs stay in the compartments and returns the remaining discs and the discs taken out of play to the player who then starts their 2nd sub-turn as per the procedures set out above
After the 2nd sub-turn the procedure (above) is repeated for a 3rd and final time
The official then clearly informs the player of the score, that once agreed upon is noted on the score board if it is one of the 3 best scores for that particular competition on the day of the Festival
Scoring
1 disc in each compartment = 20 points
2 discs in each compartment = 40 points
3discs in each compartment = 60 points
4 discs in each compartment = 80 points (etc)
If a compartment contains more discs than the others, those discs will count for the score on the compartment
A maximum score of 148 is thus possible